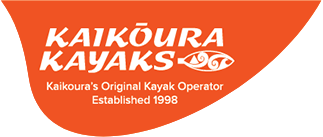 Go Travel NZ
The Seaward Kaikoura Mountains, gleaming white in the afternoon sun, seem to float on a hazy bed of mist as the sun scatters brilliant diamonds of light across the water.
The Seaward Kaikoura Mountains, gleaming white in the afternoon sun, seem to float on a hazy bed of mist as the sun scatters brilliant diamonds of light across the water.
The view from absolute sea level is dazzling and the gentle rocking of our kayak adds to a sense of time suspended. I am mesmerised. Then a call from Matt Foy, our guide and owner of Kaikoura Kayaks, breaks the spell: "Seal over here!"
I am in a double sea kayak with Sam, a visitor from the UK. We turn and head over towards Matt and a seal that is busily contorting itself in the water. "He's having a wash," says Matt, as the shiny black seal, flippers flapping, gets stuck into his ablutions. "They clean themselves in the water and use it to cool off after lying on the rocks."
Colonies of New Zealand fur seals and other types of marine life make their home in the seas and on the coast around Kaikoura. Matt guarantees you will meet New Zealand fur seals on his half-day guided tours. "Everything else is a bonus."
"During dolphin season in March and April we get hundreds of Dusky dolphins around the coast. A kayak's the perfect way to see them; they keep up with you and play around, leap out of the water and swim underneath your kayak. We even spot the occasional whale. We've been seeing little blue penguins in the water over summer and sometimes an albatross will fly between the kayaks – that's an amazing sight, their wingspan can be longer than your paddle!"
We do not see dolphins or penguins on this Sunday afternoon, but we do get close to fur seal families drowsily eyeing us from their rocky locations or swimming up to our kayaks for a nosy. Seabirds, too, are busy doing their thing: endangered Hutton's shearwaters – endemic to Kaikoura – spotted shags, terns, cormorants, oyster catchers...
After meeting Matt at his base just south of the town centre, we had headed out along the north side of the Kaikoura Peninsula, stopping at a small reserve called Jimmy Armers Beach. Here Matt had taken us through some kayaking basics and important safety drills. He had handed out warm, waterproof pants and paddle jackets, neoprene booties, life jackets and spray skirts. "We do operate year-round," he tells me later, "and I don't skimp on kit; if you're warm and dry it makes the experience so much more enjoyable."
We tug the kayaks into the water and, with Matt's help, climb in, fasten the waterproof spray skirts around the cockpits and launch off into the ocean. Soon we're practicing our sweep stroke's and paddling in synch and then we're on the move, heading out towards the open sea. The ragged edge of the peninsula is on our right and the glittering mountains to the left. It is a perfect day and I'm thinking this is the perfect way to spend it.
We paddle out to North Point. If kayaking conditions are better on the south side of the peninsula, Matt will put in at South Bay, but today there is a bit of a sou'wester blowing, so we are sticking to the leeward north coast.
Matt Foy has been running Kaikoura Kayaks since 1998 when, with some borrowed kayaks, he set up shop over summer on a local beach. A keen surfer who had grown up in Whangamata on the Coromandel Peninsula east of Auckland, he had discovered river kayaking while attending the Outdoor Pursuits Centre on the North Island's Central Plateau.
"There are no waves on the Central Plateau, so the next best thing was river kayaking," he says. "Kayaking in summer and snowboarding in winter."
Matt gained a certificate in outdoor pursuits from Wairakei Polytechnic and returned to Whangamata for a summer of surfing. "When there were no waves, I'd go out with a friend in his dad's sea kayak. I started taking guided trips – and making money!
"I'd been looking at the South Island for a while and I'd seen there was good surfing at Kaikoura. And, of course, there was snowboarding in winter down south."
There was no kayaking operation in Kaikoura back then, but the sea was teeming with marine life that was already attracting visitors. Matt saw it as "a golden opportunity" and Kaikoura Kayaks was established.
Since that first summer, the business has grown to include paddle boards, a kayak store and kayak school, guided seal and fishing tours and independent rentals. In summer Matt takes on three extra staff to meet demand.
Out on the water, Matt's relaxed professionalism and local knowledge is reassuring and encouraging to even newbie paddlers. This, together with the quality of equipment, his attention to safety and the overall visitor experience, has won Kaikoura Kayaks top spot five years running in the Rankers' Sea Kayaking category, Tripadvisor's Certificate of Excellence for the past three years and Top Choice from Lonely Planet.
On a day like this, I am thinking, we have surely tasted the very best of Kaikoura. And maybe half a crayfish will complete the job.
www.kaikourakayaks.nz
What our customers have to say
Wow wow wow! We'd done whale watching the day before but this beat that hands down. Miles was great, just enough instruction and safety chat and getting us involved in prep. He mentioned that he'd seen spouting and splashing over the other side of the bay so we decided to head that way. Within minutes we were seeing loads of leaping...
Lesley H, UK
We did the trip with a 6 and 8 year old. Parents in the back of each kayak, kids in the front. This worked really well. Saw a huge number of dolphins & Seals. They were playing & doing crazy tricks. Had a lovely time, the staff were really friendly, helpful & enthusiastic. Great value for money and would highly recommend this...
Steve, Nelson NZ
Marine mammal megamix Spent a truly incredible morning around the Kaikoura Peninsula with Matt and Emma, two fantastic local guides. The whole operation was very professional, with high quality kayaks, equipment and a detailed safety briefing. Spent a good amount of time observing the seals, tried our hand at some kayak surfing in the big...
Tom, Neverlands
I would have to say this is up there with one of my best experiences in New Zealand! The kayak tour was incredible and I would really recommend this to anyone. The staff are great, friendly and funny which made the tour even more enjoyable. My team included Emma, Cam and Sophie. As I was on my own, I had the pleasure of sharing a kayak with...
Giorgio Favarulo, UK / Ireland
Third time with Kaikoura Kayaks! Have been in guided tours and hired a double kayak; all experiences were incredible. Great staff and equipment. Kaikoura is one of the most amazing places to kayak - so much wild life and you're surrounded by epic scenery.
Kiana Saltarelli, North America
Great Trip - even the oldies loved it! Had a really great trip with Cowan out to the see the seals and the reef on a beautiful morning. I was a bit worried getting in a kayak with my mother (67) and father (70) but Cowan kept us going at a leisurely pace and even convinced us to have a go in the open ocean! What a great experience and...
John R, UK
"To Matt and the Kaikoura Kayaks team, Thank you very much for a fantastic day of kayaking. Both our trips were very well organised by your friendly team. We found your lessons enjoyable, helping us all to be confident, expert paddlers! We were so lucky to have a beautiful sunny day, and we enjoyed fantastic scenery and wildlife out...
Kowhai Class, Hurunui College NZ
The experience of a lifetime! Having intuitive and professional guides who allowed us the opportunity to experience an outstanding and very memorable day. They knew just where the incredible action was happening. We saw an amazing array of dolphins playing right near us and also saw blue penguins and seals. We travelled for two weeks around...
Paula Kirby, Wellinton NZ
Sunset magic 10/10 thanks to Emma and her crew. We had a magical day on the water and got to see feeding seals, dolphins and wildlife. Thanks so much would 100% recommend to anyone looking for a unforgettable experience in Kaikoura!!
DKG, Australia
We had a truly wonderful experience; my husband and I went as a stop on our honeymoon trip. Our guide, Ru, was knowledgeable and skillful, and checked in with us often to provide the experience that would help us feel challenged, excited, and also safe and comfortable. From start to finish the team was so thorough and made sure we had all of...
Laura James, USA
Read More