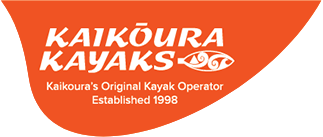 Experience Kaikoura Kayaks
Kaikoura Kayaks offers the complete kayaking experience, it does not take long to see how this tourism operator has won many awards, the team is professional and passionate. Kaikoura Kayaks is a must do while visiting Kaikōura, New Zealand.
Kaikoura Kayaks offer unspoilt views of the Kaikoura coastline and priceless interactions with the region's abundant wildlife from their kayaks. You can paddle along with the marine life, have a go at kayak fishing, hire your own paddleboard / kayak or up-skill through their kayak school – all options which allow you to enjoy the peace and tranquility of the stunning Kaikoura coast.
Winner of the Sea Kayaking Category for 2014, 4th year running in the Rankers Traveller Voted Awards you can be reassured that you will have memorable encounters with the marine life.
Kaikoura Kayaks are a Qualmark Visitor Activity and the Qualmark auditing system guarantees your experience. All their gear and equipment are top quality and is renewed every few years to ensure this remains the case.
Guides are qualified under the New Zealand Outdoor Instructors Association (NZOIA) and Kaikoura Kayaks have also recently been granted a dolphin permit, so they can offer chance encounters with one of the ocean's most popular marine mammals.
"The abundance of marine life in our region is a big drawcard," Kaikoura Kayaks (owner/manager) Matt Foy says, "you don't have to travel far to see Fur Seals, Blue Penguins, and even Dusky Dolphins."
Kaikoura Kayaks have a range of options available for exploring Kaikoura's coast. They offer Seal Kayaking Tours where you will be paddling along with the Seals diving in and out of view as they hunt octopus around the rocky coast. Your guides will keep you at a safe distance as ocean-going birds swoop-in, looking to pick up the leftovers. Then continue around the coastline for chance encounters with other wildlife, especially Kaikoura's famous Dusky Dolphins.
All tours last three hours, which Matt says is the perfect amount of time to spend on the water with the wildlife. "The half day tours are very manageable and much more enjoyable, and are good for the whole family – you'll get an unforgettable experience without giving your whole day to it."
Kaikoura Kayaks also offer Freedom Hire of their high quality and easy-to-use Sea Kayaks, which are available for half day or full day hire. Taking up a Freedom Hire means you can enjoy the wildlife and views at your own pace, these trips are ideal for two or more water confident people with kayaking experience.
They also offer Freedom Hire by the hour with their 'sit-on-top' fishing kayaks. The sheer thrill of catching a fish from a kayak is multiplied compared to fishing off other craft, and it works! It is a proven productive form for all sorts of fishing and can target all sorts of fish. The kayaks, with their inherent stability and self-draining scupper holes provide an ideal platform for fishing and best of all, there is no motor noise that will scare fish away.
If you want to improve your kayaking skills The Kayak School can take you from a novice paddler all the way to trained guide. Learn how to roll and surf your kayak, master skills to help you read weather and navigate successfully or cover kayak rescue techniques.
All in all, Kaikoura Kayaks offer the complete kayaking experience in the heart of nature's playground – beautiful Kaikoura.
Visit them at 19 Killarney Street or call 0800 452 456 to confirm your kayak tour, fishing trip or kayaking lessons today!
What our customers have to say
Wow wow wow! We'd done whale watching the day before but this beat that hands down. Miles was great, just enough instruction and safety chat and getting us involved in prep. He mentioned that he'd seen spouting and splashing over the other side of the bay so we decided to head that way. Within minutes we were seeing loads of leaping...
Lesley H, UK
We did the trip with a 6 and 8 year old. Parents in the back of each kayak, kids in the front. This worked really well. Saw a huge number of dolphins & Seals. They were playing & doing crazy tricks. Had a lovely time, the staff were really friendly, helpful & enthusiastic. Great value for money and would highly recommend this...
Steve, Nelson NZ
Marine mammal megamix Spent a truly incredible morning around the Kaikoura Peninsula with Matt and Emma, two fantastic local guides. The whole operation was very professional, with high quality kayaks, equipment and a detailed safety briefing. Spent a good amount of time observing the seals, tried our hand at some kayak surfing in the big...
Tom, Neverlands
I would have to say this is up there with one of my best experiences in New Zealand! The kayak tour was incredible and I would really recommend this to anyone. The staff are great, friendly and funny which made the tour even more enjoyable. My team included Emma, Cam and Sophie. As I was on my own, I had the pleasure of sharing a kayak with...
Giorgio Favarulo, UK / Ireland
Third time with Kaikoura Kayaks! Have been in guided tours and hired a double kayak; all experiences were incredible. Great staff and equipment. Kaikoura is one of the most amazing places to kayak - so much wild life and you're surrounded by epic scenery.
Kiana Saltarelli, North America
Great Trip - even the oldies loved it! Had a really great trip with Cowan out to the see the seals and the reef on a beautiful morning. I was a bit worried getting in a kayak with my mother (67) and father (70) but Cowan kept us going at a leisurely pace and even convinced us to have a go in the open ocean! What a great experience and...
John R, UK
"To Matt and the Kaikoura Kayaks team, Thank you very much for a fantastic day of kayaking. Both our trips were very well organised by your friendly team. We found your lessons enjoyable, helping us all to be confident, expert paddlers! We were so lucky to have a beautiful sunny day, and we enjoyed fantastic scenery and wildlife out...
Kowhai Class, Hurunui College NZ
The experience of a lifetime! Having intuitive and professional guides who allowed us the opportunity to experience an outstanding and very memorable day. They knew just where the incredible action was happening. We saw an amazing array of dolphins playing right near us and also saw blue penguins and seals. We travelled for two weeks around...
Paula Kirby, Wellinton NZ
Sunset magic 10/10 thanks to Emma and her crew. We had a magical day on the water and got to see feeding seals, dolphins and wildlife. Thanks so much would 100% recommend to anyone looking for a unforgettable experience in Kaikoura!!
DKG, Australia
We had a truly wonderful experience; my husband and I went as a stop on our honeymoon trip. Our guide, Ru, was knowledgeable and skillful, and checked in with us often to provide the experience that would help us feel challenged, excited, and also safe and comfortable. From start to finish the team was so thorough and made sure we had all of...
Laura James, USA
Read More