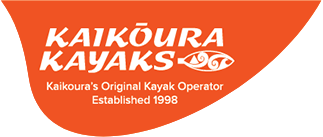 Guided Family Kayaking
Our highly stable sea kayaks allow children to safely enjoy a kayaking experience with an adult paddling right behind them.
Tour Overview
Enjoy paddling as a family around Kaikoura's aquatic wonderland at a leisurely pace taking in the views and enjoying the thrill of getting right up close to New Zealands marine life.
Our professionally qualified guides will be right beside you in your watertight kayaks as your family take snaps of playful New Zealand Fur Seals with a dramatic backdrop of mountain views, craggy rocks and sheer cliff faces.
Your family will stay warm and dry in our enclosed stable sea kayaks with all equipment provided including GORE-TEX dry pants in winter, jackets, wetsuit booties for your feet and dry bags for camera's.
We can tailor your trip to suit your specific family needs and your guide will ensure your kayaking tour around the Kaikoura Peninsula is exceptionally safe, highly memorable and great fun for the whole family.
Tour at a Glance
Open Season:
Open all year
Prior Experience:
None Required
Duration:
1.5 - 2 hrs paddling time, 3hrs Total Duration
Age:
Child 3 - 12yrs ~ Adults 13yrs +
Highlights
Top #3 Activity in Kaikoura - TripAdvisor Traveller Rating 2023
A ratio of 1 x Guide to each family of 4 ensures a safe, authentic and private experince.
The morning tour's usually have the calmest sea conditions and the best interactions with marine life.
Tailored tour to suit your specific family needs using stable enclosed sea kayaks that keep you warm and dry.
Summer Timing
25th September - 2nd April 2023
3 x Half Day Tours Daily
8:30 AM
Great for families and best interaction with marine life as it's before prevailing winds.
12:30 pm
Warmest part of the day.
4:30 pm
Surreal visuals of the mountains as the light changes in the bay.
Winter Timing
2nd April - 23rd September 2023
8:30 am
Great for families and best interaction with marine life as it's before prevailing winds.
12:30 pm
Warmest part of the day.
3:30pm
Available 2nd April to 31st May
What our customers have to say
I would have to say this is up there with one of my best experiences in New Zealand! The kayak tour was incredible and I would really recommend this to anyone. The staff are great, friendly and funny which made the tour even more enjoyable. My team included Emma, Cam and Sophie. As I was on my own, I had the pleasure of sharing a kayak with...
Giorgio Favarulo, UK / Ireland
Marine mammal megamix Spent a truly incredible morning around the Kaikoura Peninsula with Matt and Emma, two fantastic local guides. The whole operation was very professional, with high quality kayaks, equipment and a detailed safety briefing. Spent a good amount of time observing the seals, tried our hand at some kayak surfing in the big...
Tom, Neverlands
We are a family of five (14, 12 and 10 year old kids) and we went out last week with Emma as our guide. It was the perfect morning - we saw a seal right up close - he swam right next to our kayaks. Really comfortable kayaks and easy to use. Emma had lots of useful information and was very patient when we got used to using the double kayaks....
Emma W, Auckland NZ
We booked on the seal kayaking tour and the day dawned magical and calm. Pretty much straight away we saw seals up on the rocks, so tick tick. We ventured out into the Pacific and were blown away to have a pod of Dusky dolphins cruising with us. They were gorgeous and kept on swimming near our kayaks. Then a seal took to the water and started...
Dave, Christchurch NZ
Third time with Kaikoura Kayaks! Have been in guided tours and hired a double kayak; all experiences were incredible. Great staff and equipment. Kaikoura is one of the most amazing places to kayak - so much wild life and you're surrounded by epic scenery.
Kiana Saltarelli, North America
Great Trip - even the oldies loved it! Had a really great trip with Cowan out to the see the seals and the reef on a beautiful morning. I was a bit worried getting in a kayak with my mother (67) and father (70) but Cowan kept us going at a leisurely pace and even convinced us to have a go in the open ocean! What a great experience and...
John R, UK
"To Matt and the Kaikoura Kayaks team, Thank you very much for a fantastic day of kayaking. Both our trips were very well organised by your friendly team. We found your lessons enjoyable, helping us all to be confident, expert paddlers! We were so lucky to have a beautiful sunny day, and we enjoyed fantastic scenery and wildlife out...
Kowhai Class, Hurunui College NZ
The experience of a lifetime! Having intuitive and professional guides who allowed us the opportunity to experience an outstanding and very memorable day. They knew just where the incredible action was happening. We saw an amazing array of dolphins playing right near us and also saw blue penguins and seals. We travelled for two weeks around...
Paula Kirby, Wellinton NZ
Sunset magic 10/10 thanks to Emma and her crew. We had a magical day on the water and got to see feeding seals, dolphins and wildlife. Thanks so much would 100% recommend to anyone looking for a unforgettable experience in Kaikoura!!
DKG, Australia
We had a truly wonderful experience; my husband and I went as a stop on our honeymoon trip. Our guide, Ru, was knowledgeable and skillful, and checked in with us often to provide the experience that would help us feel challenged, excited, and also safe and comfortable. From start to finish the team was so thorough and made sure we had all of...
Laura James, USA
Read More