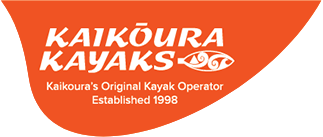 Kayak Fishing Tours
Catching fish from a kayak is a special experience, the Kaikoura peninsula and the surrounding areas provide an abundant supply of fish species.
Guided Fishing Tour
Adults
$165-520.NZD
Get the best tips, tricks and local knowledge with your own guide.
BOOK NOW OR BUY GIFT CARD
Tour Overview
Kayak fishing is commonly accepted as the fastest and easiest way to fish. The inherent stability of our sit-on-top fishing kayaks along with their self-draining scupper holes makes it virtually impossible to capsize. Kayak fishing is not only an exciting experience it has been proven to be a highly productive form of fishing.
Whether its drift kayak fishing, fishing around rocks, offshore fishing, or using your fishing kayak to set a long line and sit back and catch fish to your heart's content. Our kayaks include retractable rudders which allow you to drift with the tide and regain manoeuvrability when required. This flexibility means you can paddle into nooks and crannies where even a fishing boat cannot go.
Best of all fishing with the magnificent backdrop of the Kaikoura ranges and the craggy cliff faces creates an excellent experience all round. There is also the sheer thrill and excitement of landing that big one off a fishing kayak.
Our instructors and guides know all the best spots on the Kaikoura coastline and Peninsula, so be sure to ask what we can do to help make your fishing experience one you will both enjoy and treasure.
We'll do our best to help you get a catch, fishing is a sport, so the strike rate and amount of fish landed can vary day-to-day, and angler-to-angler but it's still a lot of fun and worth the adventure!
Book your New Zealand fishing kayak adventure now!
Guided Fishing Tours
Open Season:
September - May
Prior Experience:
Not required
Guided Fishing 1/2 and full day
7:30am
$155.00 Half day 4hrs
7:30am
$240.00 Full day 8hrs
Guided Fishing - Private Tour
7.30am
$299.00 Half day 4hrs
7.30am
$499.00 Full day 8hrs
Guided Fishing Tour
Adults
$165-520.NZD
Get the best tips, tricks and local knowledge with your own guide.
BOOK NOW OR BUY GIFT CARD
Guided Fishing Tour
Adults
$165-520.NZD
Get the best tips, tricks and local knowledge with your own guide.
BOOK NOW OR BUY GIFT CARD
What our customers have to say
Wow wow wow! We'd done whale watching the day before but this beat that hands down. Miles was great, just enough instruction and safety chat and getting us involved in prep. He mentioned that he'd seen spouting and splashing over the other side of the bay so we decided to head that way. Within minutes we were seeing loads of leaping...
Lesley H, UK
We did the trip with a 6 and 8 year old. Parents in the back of each kayak, kids in the front. This worked really well. Saw a huge number of dolphins & Seals. They were playing & doing crazy tricks. Had a lovely time, the staff were really friendly, helpful & enthusiastic. Great value for money and would highly recommend this...
Steve, Nelson NZ
Marine mammal megamix Spent a truly incredible morning around the Kaikoura Peninsula with Matt and Emma, two fantastic local guides. The whole operation was very professional, with high quality kayaks, equipment and a detailed safety briefing. Spent a good amount of time observing the seals, tried our hand at some kayak surfing in the big...
Tom, Neverlands
I would have to say this is up there with one of my best experiences in New Zealand! The kayak tour was incredible and I would really recommend this to anyone. The staff are great, friendly and funny which made the tour even more enjoyable. My team included Emma, Cam and Sophie. As I was on my own, I had the pleasure of sharing a kayak with...
Giorgio Favarulo, UK / Ireland
Third time with Kaikoura Kayaks! Have been in guided tours and hired a double kayak; all experiences were incredible. Great staff and equipment. Kaikoura is one of the most amazing places to kayak - so much wild life and you're surrounded by epic scenery.
Kiana Saltarelli, North America
Great Trip - even the oldies loved it! Had a really great trip with Cowan out to the see the seals and the reef on a beautiful morning. I was a bit worried getting in a kayak with my mother (67) and father (70) but Cowan kept us going at a leisurely pace and even convinced us to have a go in the open ocean! What a great experience and...
John R, UK
"To Matt and the Kaikoura Kayaks team, Thank you very much for a fantastic day of kayaking. Both our trips were very well organised by your friendly team. We found your lessons enjoyable, helping us all to be confident, expert paddlers! We were so lucky to have a beautiful sunny day, and we enjoyed fantastic scenery and wildlife out...
Kowhai Class, Hurunui College NZ
The experience of a lifetime! Having intuitive and professional guides who allowed us the opportunity to experience an outstanding and very memorable day. They knew just where the incredible action was happening. We saw an amazing array of dolphins playing right near us and also saw blue penguins and seals. We travelled for two weeks around...
Paula Kirby, Wellinton NZ
Sunset magic 10/10 thanks to Emma and her crew. We had a magical day on the water and got to see feeding seals, dolphins and wildlife. Thanks so much would 100% recommend to anyone looking for a unforgettable experience in Kaikoura!!
DKG, Australia
We had a truly wonderful experience; my husband and I went as a stop on our honeymoon trip. Our guide, Ru, was knowledgeable and skillful, and checked in with us often to provide the experience that would help us feel challenged, excited, and also safe and comfortable. From start to finish the team was so thorough and made sure we had all of...
Laura James, USA
Read More